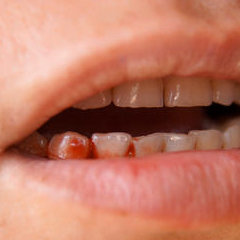 Most oral bleeding results from gingivitis (see earlier article) or trauma, but if it is prolonged consider a bleeding tendency.
Dental indications for urgent admission to hospital:
Trauma
Middle facial third fractures

---

Mandibular fractures unless simple or undisplaced

---

Zygomatic fractures where there is danger of ocular damage
Inflammatory lesions and infections
Cervical or facial fascial space infection

---

Oral infections where patient is "toxic" or severely immunocompromised

---

Tuberculosis (some)

---

Severe viral infections

---

Severe vesiculobullous disorders (pemphigus, Stevens-Johnson syndrome, toxic epidermal necrolysis)
Blood loss
Severe or persistent haemorrhage (particularly in patient with a bleeding tendency)
Others
Diabetes with poor control
Trauma
After a tooth is extracted, the socket bleeds normally for a few minutes but then clots. Since clots are easily disturbed, patients should be advised not to rinse their mouth, disturb the clot, chew hard, take hot drinks or alcohol, or exercise for the next 24 hours. If the socket continues to bleed lie a gauze pad across the socket and ask the patient to bite on it for 15-30 minutes. If it is still bleeding place Surgicel or another haemostatic agent in the socket. If the bleeding continues suture the socket and, lastly, consider a bleeding tendency.