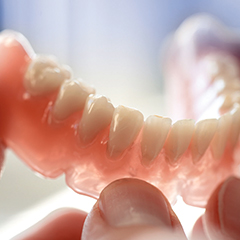 What Are The Different Types Of Dentures?
Conventional dentures are prosthetics that replace full arches of missing teeth. Dentures can be inserted after the extraction of the teeth and the tissue has healed. The healing process may take a few months so during this time you will be without your teeth unless you decide to get fitted for immediate dentures while you heal.
Immediate dentures also called temporary dentures are inserted immediately after extraction of some or many teeth. An immediate denture is placed at the same visit as your tooth removal, so they serve as a bandage to control bleeding and protect gum tissue. Also, if you have immediate dentures you can start adjusting your speech to wearing the denture immediately.
What Is the Difference Between Full And Partial Dentures?
Complete dentures are for people who are missing all teeth within the upper or lower arch. Partial dentures fill in the spaces created by missing teeth to prevent other teeth form shifting position.
How Long Do Dentures Last?
A full denture can last for 8-10 years this time will vary and depend upon such factors as individual tolerances. The denture teeth and base will wear and stain over time your denture will need to be relined, remade, or repaired due to normal wear. Department of Veteran Affairs allows for a new one to be made for free every 8 years.
How Should I Take Care Of My Dentures?
Dentures are quite delicate so be very careful when you are cleaning them. Dentures can still build up stains and tartar on them, and bacteria if your dentures are plagued with plaque which can lead to problems in the tissues underneath, such as infection and irritation. Brush your dentures with a regular brush not the same as your rdaily brush. Your dentist will advise you on how to clean your denture and can recommend denture cleaning products.
How Much Do Dentures Cost?
Complete dentures cost between $1000.00 and $1,500.00 and immediate dentures cost between $1500.00 and $1,800.00. Immediate dentures more than conventional dentures because more time goes into preparing them. There are several advantages that may make them worth the cost. The main advantage of immediate dentures is that you don't have to go out in public without teeth following tooth removal. Most dental insurance plans include benefits for dentures. Whether there's dentures or denture treatment required, most plans will save their members 50% on their denture needs. There may be a deductible and copay with the amount determined by the insurance contract.